Traditional Values / Innovative Thinking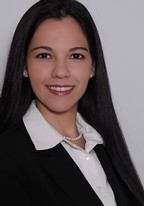 E. Adriana Kostencki
ATTORNEY AT LAW
Miami
305.777.9322
ekostencki@fowler-white.com
Download vCard

As a dual Venezuelan-U.S. attorney, Adriana Kostencki focuses her practice on cross-border maritime, aviation, and commercial matters involving transactional, transnational litigation, and complex jurisdictional disputes. In the maritime arena, Adriana represents domestic and international clients across the maritime industry, including insurers, cargo carriers, vessel owners, charterers, shipping companies, and marina and terminal operators.
As a member of the firm's Aviation Group, Adriana represents foreign and domestic businesses and individuals from all sectors of the aviation industry, including commercial airlines, corporate and individual aircraft owners, and charter operators.
Adriana also advises multi-national corporations, start-up companies, and individuals on business immigration matters, including investment and employment-based visas.
Her experience as an attorney in Venezuela gives her valuable insight into the legal system and business dealings of Latin America.
Published Decisions
Schuster v. Carnival Corp., 2011 AMC 536 (S.D. Fla. 2011)
Selected Publications
Author, "El Arbitraje de Inversiones en América del Sur: Propuesta de Creación de un Centro Alternativo de Arbitraje dentro de la Estructura Internacional de la Unión de Naciones Suramericanas [Arbitration in Latin America: The Creation of a Regional Dispute Resolution Center within the Union of South American Nations]," 42 U. Miami Inter-Am. L. Rev. 175 (2010).
Co-Author, "A Guide to Mercosur Legal Research: Sources and Documents," Hauser Global Law School Program, New York University School of Law, Jan 2010.
Co-Author, "El Procedimiento Marítimo Estadounidense [Maritime Practice and Procedure under U.S. Law]," Libro Conmemorativo X Aniversario de la Legislación Acuática Venezolana, 2011.
Co-Author, "Aspectos Probatorios del Procedimiento Marítimo en el Derecho Norteamericano [Pre-Trial Practice and Discovery under U.S. Admiralty Law]," Universidad Marítima del Caribe y Asociación Venezolana de Derecho Marítimo, X Aniversario de la Promulgación de la Legislación Marítima Venezolana (2011).
Selected Speaking Engagements
Speaker, The Fight Against Piracy at the Gulf of Aden, University of Leipzig, Germany, May 2009
Professional & Civic Involvement
Venezuelan Maritime Law Association
Ibero-American Maritime Law Association
Venezuelan-American Chamber of Commerce- Board of Directors-Alternate Director
Venezuelan Bar Association
The Hispanic Bar Association
American Bar Association
Dade County Bar Association
American Immigration Law Association
The Florida Bar, International Division, Trial Lawyers Division, Appellate Practice Division, Young Lawyers Division
We the People Competition: The Citizen and the Constitution High School Hearing, Competition Judge